Hey there! I got the game on steam and have been looking for a place to post bug reports... do you have a discord or anything or is this the best spot? I am really enjoying the game but there's a few things that really lower my motivation sometimes.
Archers are a little hard to figure out, sometimes they just won't shoot and one time one harvested a resource when things respawned, I believe it was either fiber or berries, and just refused to attack any enemies. Maybe I missed a prompt on their description about their range? If so, maybe when the player has selected an archer and is dragging them around, islands around them could be highlighted in red or something indicating their ideal range (changing as the archer is dragged around)? I find the description text in the bottom left very hard to remember to check, so maybe I just missed something.

Less frustrating, just confusing is related to food and units. I've found that it's easy to break and pass the max level for units by just continually feeding them food and didn't know if that was intentional? Usually feeding them food in groups of 3 is what breaks it. I say 'breaks it' because if they did have stars before, I'll find them removed and the prompt for the "food to power up" reset. I had a knight with both stats into the high teens before realizing that that might not be what was intended, maybe it was! I think the three star knight had lower stats than that.
Also, after coming back to a saved game, all the furnaces and alters were gone.
I'm on my phone currently but if you need screenshots or anything I'd be happy to provide later! This game has been so much fun though and it's really incredible that you made it in less than the months! Well done and thanks again for creating such an enjoyable game :)
Edit: back to my computer with screenshots!
I uhhh got a little carried away with food on this one....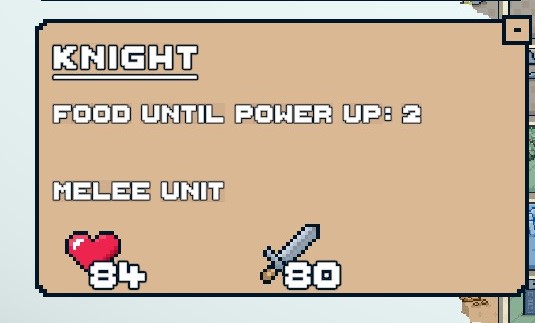 This is a water thing not producing even with the worker, had to build a new one: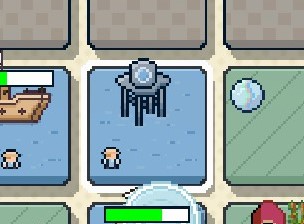 This is my worker past its max level, with no stars anymore: